Maogma.com launches its global website promoting luxury tourism in the Philippines - www.maogma.com. First of its kind worldwide, Maogma is a travel agency in Manila catering to personalized holiday travel packages targeted solely for the discerning luxury travel market. The aim of the website is to help in promoting the best of the best travel destinations in the Philippines. This coincides with the country's Department of Tourism's campaign slogan: It's More Fun in the Philippines!
To start with, the company is focusing on the UK and Middle East travel market who are interested in visiting the tropical paradise of the Philippines. The country being known as the "Pearl of the Orient", is a stand-out archipelago among its Southeast Asian neighbors because of its unique place on the globe. It has also been recognized for several UNESCO World Heritage Sites, and holds one of the "Seven Wonders of the World" – the Puerto Princesa Subterranean River National Park. The Philippines has become one of the most sought-after holiday and vacation destinations by Europeans because of the warm climate and the natural beauty of the land. Composed of 7,100 plus islands, this region in Asia is known for pearly-white sandy shores, azure seas, abundant coral reefs, diverse flora and fauna, majestic mountain elevations, festive culture of both Asian and European mix, and most of all – its warm, and welcoming people.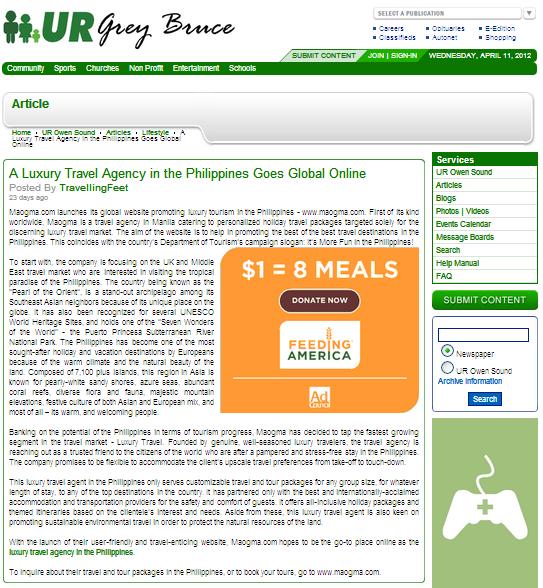 Banking on the potential of the Philippines in terms of tourism progress, Maogma has decided to tap the fastest growing segment in the travel market – Luxury Travel. Founded by genuine, well-seasoned luxury travelers, the travel agency is reaching out as a trusted friend to the citizens of the world who are after a pampered and stress-free stay in the Philippines. The company promises to be flexible to accommodate the client's upscale travel preferences from take-off to touch-down.
This luxury travel agent in the Philippines only serves customizable travel and tour packages for any group size, for whatever length of stay, to any of the top destinations in the country. It has partnered only with the best and internationally-acclaimed accommodation and transportation providers for the safety and comfort of guests. It offers all-inclusive holiday packages and themed itineraries based on the clientele's interest and needs. Aside from these, this luxury travel agent is also keen on promoting sustainable environmental travel in order to protect the natural resources of the land. With the launch of their user-friendly and travel-enticing website, Maogma.com hopes to be the go-to place online as the luxury travel agency in the Philippines.